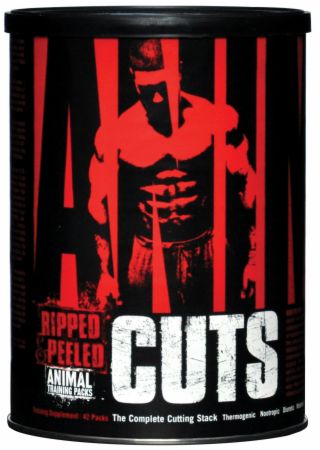 Animal
Animal Cuts
The Complete Vitamin Stack For Cutting Fat*
Supports A Healthy Appetite Level & Curbs Urges For The Dieting Bodybuilder*
Not Available In Your Store
Change country store if this is not your current location. You can also visit our help page.
Note: Changing your country catalog may affect prices, promotions, and product availability.
Ratings & Reviews
Animal Cuts
Overall Rating
8.4
868 Ratings
By clicking the button above, you agree to entering the Bodybuilding.com Reviews section. Products in the Store are not intended to diagnose, treat, cure, or prevent any disease.

I lost 5kg within a one month using this product. this is ma first fat burner, I haven't used another before. you will feel the burn immediately inside ur body after takes all pills. I followed a proper diet plan and workout routine, did cardio four times a week (1 hour). people who said this not work, may b lazy a"" .( gotta get off your a** and work with it). I removed the red pill coz, I am bit sensitive to caffeine caffeine in red pill and metabolic complex in yellow pill. can recommend this product n I'm gonna buy ma second bottle soon.
Was this review helpful?
Report

This definitely works and you will lose weight and lean out. Only reason I gave it a 9 was the amount of pills(2 packs a day) and the amount of water you will have to drink. One gallon a day didn't cut it for me. I'm always thirsty an ******* on this.
Was this review helpful?
Report

I took this exactly as directions said and I did not notice a bit of difference. I changed my diet plan and worked out daily as possible with no sign of any transformation. I can tell you this though, if you take this and wait 15 minutes to eat you will have extreme pain and craps until you digest some type of food. I do not recommend this product nor will I ever buy it again.
Was this review helpful?
Report

I went through 3 cans of this product and I didn't see any visible results. In my opinion this was a waste of money.
Was this review helpful?
Report

can you take animal cut with animal omega? will there be any side effects
Was this review helpful?
Report

I always come back to this one because nothing else works as well for me. Just the right amount of energy to roll through my day and get a good workout in. Doesn't make my heart race or make me nauseous. Rather than run clenbuterol when I start cutting I will stick with this.
Was this review helpful?
Report

I'm on my 2nd cycle day 3. Beginning of First Cycle: Before taking Animal Cuts I was running at the park and doing jump rope a week before taking this. These pills don't give motivation that comes from you. What the pills did for me: I've been eating once a day for about 3-4 months these pills allow me to skip a day of eating sometime I skip two days. (Helps me spiritually) and still have a high intensity workout on the days I didn't eat. These pills brought out lines in my stomach extra veins in my hands all the way up my arms without lifting one weight. I understand genetics play a role too. Along with personal decisions My one week off experience: Yes thier is a big difference I was still able to workout but it took a lot for me to get out and when I did my workouts wasn't as strong. I wasn't sure how I was able to go a day with out eating! Lol I felt like I lost my mojo when I was off Animal Cuts. 2nd Cycle: I started my 2nd cycle and that same day I didn't not eat. I was BACK!! My workouts now are even stronger. Overall: After soooo much trial and error with mixers and powders , vitamins and pills, I feel Animal Cuts are perfect I don't have a problem with the pills I am able to take them with 2 swigs then I chug the bottle. If you can't take pills then you shouldn't get Animal cuts
Was this review helpful?
Report

I bought this so I can lose some fat and water retention in particular in the belly area. I did not change my diet or my workout, I did everything as usual, eating normal including sugars and carbs, and the truth is THIS PRODUCT IS AMAZING! I lost fat in the areas that I wanted to and the good thing is that I didnt do any major changes in my routine including food. So Im glad that it worked. I am trying this product again but this time doing cardio, HIIT, and eating clean so I can see even better results. Overall I am very happy and completely surprised by the results, I was very skeptical about this one.
Was this review helpful?
Report

Didn't work at all. I did loose some weight but I never felt anything after taking the pills, concentration or energy wise. I didn't feel the caffeine rush either. I have been eating clean and doing HIIT which I think is the reason I lost few pounds.
Was this review helpful?
Report

Best fat burner ever. This one is more effective than Hydroxycut and Leanmode products. At the 1st time, I just consumed 1 pack/day because I am quite sensitive to caffeine. After 1 week, my serving was increased to 2 packs/day and I did not have any sleeping problems or insomnia. I already could see the result at the 1st week with doing a 30-min-workout 3 times/week. Moreover, I almost did not change my diet, I still ate high-carb & low-fat meals and usually had a cheat day at the weekend. I also used Animal Stak before my workout and I could quickly see the result. I just have already re-ordered 1 Animal Cuts and 1 Animal Stak. Love Animal soooo much!
Was this review helpful?
Report

not for Beginners but the only fat burner where you actually see results fast
Was this review helpful?
Report

I have only been using it for 2 days, I don't know if it'll help my muscle to fat ratio but I have major headaches, dizziness, major nausea, and I've been completely exhausted the whole time. Just warning you.
Was this review helpful?
Report
This stuff gives me so much energy. I'm on the Keto and I'm losing weight like crazy the pills help me having energy even when I'm in a calorie deficit. I'm definitely losing weight. The people that say they aren't losing are lazy F cks. You still have to work to lose weight. This takes you too the next level. It even helps my pump I'm the gym. I take it right before the gym
Was this review helpful?
Report
After using (and missing the old BSN thermogenic from the late 2000's), and other thermogenics, I was pleasantly surprised. Become desensitized and didn't feel the energy effects anymore. I feel this and feel much less bloat. Can't speak to full dose yet as I split it with a partner to see how we liked it before investing in a full container alone. Like I see so far! Cycling off and then will buy full container and rely on Animal Cuts from now on
Was this review helpful?
Report
I usually don't do reviews, but this, this product has by far been the best fat burner I've EVER HAD. I've had nothing but amazing results from this. I actually did an experiment with it. I weighed 175lbs and of course had fat around the bottom stomach area. I cut down to 162lbs and still had fat not as much but enough to wear I couldn't see my abs. After cutting was done and I went back up to around 180, I cut back down to 165 and this time using this product, I had my 8 pack showing, full definition and everything. This REALLY burns the fat. I've tried every fat burner you can think of. This is now my only fat burning supplement I'll ever use. ( of course you actually gotta get off your *** and work with it ) if take it how tells you and get some good cardio and lifts threw out the week, you'll notice a big difference within the month. I highly recommend this product.
Was this review helpful?
Report