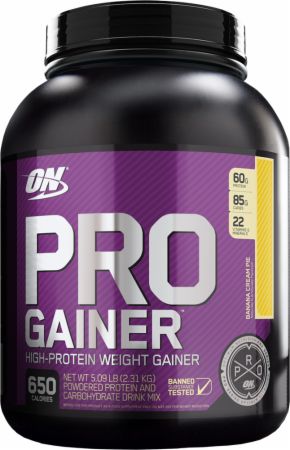 Optimum Nutrition
Pro Gainer
Whey Protein Powder for Serious Muscle Gain*
Over 600 Calories and 60g of Protein and Complex Carbs to Get Big*
Product Overview
The Bigger Picture of Lean Gainers
Don't judge a gainer based solely upon its calories per serving. Because when it comes to gaining lean mass, not all calories are created equally. Unlike typical weight-gain formulas that are loaded with simple sugars and fat. Pro Complex Gainer derives a much higher percentage of its calories from protein-7 premium protein sources to be exact. By also supplying complex carbohydrates, dietary fiber, medium chain triglycerides (MCTs), digestive enzymes, vitamins, essential minerals, and great taste as well, we've created the ideal lean gainer.* Pro Complex Gainer was made with quality, not quantity, in mind. Because we understand that you want to get big, not fat.
The Ingredients That Make Up the Mass:
High-Quality Proteins: Pro Complex Gainer is comprised of high biological value proteins, which means they are easily digested and absorbed so they provide a full complement of amino acids to support the rebuilding process.* Each serving of Pro Complex Gainer provides a 60-gram dose of premium muscle-building protein made from 7 unique sources.*
Complex Carbohydrates & Lipids: Carbohydrates and lipids (fats and oils) provide sustained energy that help prevent proteins from being burned as fuel.* Each serving of Pro Complex Gainer provides 85 grams of carbohydrates and 4-5 grams of fiber with only 5 grams of sugar. In addition Pro Complex Gainer supplies medium chain triglycerides (MCTs) and other energy-dense lipids.
Micronutrients: Various vitamins and essential minerals are utilized during the growth process. Without these micronutrients your body cannot effectively process proteins, carbohydrates, or fats. Each serving of Pro Complex Gainer provides 26 vitamins and essential minerals.
Calories: To gain just one extra pound, you need to consume approximately 3,500 calories-above and beyond what you normally consume through foods, beverages, and supplements. Pro Complex Gainer provides over 600 calories per serving. By adding just one serving to your daily routine, you can begin to experience an increase in lean mass within the first week.*
Pro Complex gainer: Quality mass through premium proteins and nutrient-dense calories.
Beyond The Basics
Ultimate LEAN GAINER Formula
650 Calories
Few Sugars
7 Superior Proteins Including Whey, Casein, and Egg
High Protein to Carb Ratio
Mixes Effortlessly with a Blender, Shaker, or Spoon
Easy to Drink
Ratings & Reviews
By clicking the button above, you agree to entering the Bodybuilding.com Reviews section. Products in the Store are not intended to diagnose, treat, cure, or prevent any disease.
Excellent Flavor, excellent results. Massive amount of carbs and protein to ensure weight gain for even the toughest high metabolisms like my own. I have been using it for 3 years and will continue to use it.
10Vanilla Custard
10Banana Cream Pie

This has become my go-to product at breakfast and after workout. Love the taste and consistency. Bomb!

This is a great protein powder! I trust that Optimum Nutrition uses quality ingredients and the price is still very reasonable. I am a very hard gainer and I put on at least 8 pounds in one bag. The double chocolate flavor tastes amazing and I never got tired of it although I will say mixing with milk as opposed to water helps. It mixes easily and provided me some solid gains while keeping me lean just like I wanted. I would highly recommend this to anyone looking to put on some clean weight!
This is absolutely my favorite protein after workout. I highly recommend Pro Gainer to everyone who wants build a solid body.
10Vanilla Custard
10Strawberry Cream
10Double Chocolate
Excellent Flavor, excellent results. Massive amount of carbs and protein to ensure weight gain for even the toughest high metabolisms like my own. I have been using it for 3 years and will continue to use it.
10Vanilla Custard
10Banana Cream Pie
An amazing weight gainer. Taste is too good! Gained 4 kg in just 16 days and im pretty sure it's all muscle mass. Took 3 scoops a day (125g scooper,while the serving size is 170g but i reached my daily caloric intake), 1 scoop=600 calories 3 times a day 1 when i wake up , 1 post workout 1 , before bed.

The product feels not bad and results are noticed. But the taste is awful. I have the strawberry cream and it's like an artificial sour taste that even lingers on through heavily diluted mixtures. I'm still trying to find a way to push back this taste enough to make use of the rest of the benefits. For sure I'll never buy this again.
This is the best available gainer right now. It works amazing well and a lot better than other mass gainers. On Pro Protein Gainer has High amounts of protein and digestible amount of calories. As the studies says we can't digest more than 600 calories on a single time. On nutrition has 650 which seems legit to me. Don't get fooled by other low quality gainers which has 1000-3000 calories each serving, our body can't digest more than 600 calories!!! at a time, its the total waste of money and time and thus they also have low amount of protein. Remember: If your gainer is giving you thick shake after mixing a full scope in water, then it means it has lots of low quality protein(Soy protein) this gives you stomach pain and its really not good for your health and goals. On Pro gainer has really low amount of Soy protein and its not thick at all even after mixing 1 whole big scope of it in 300 ml of water. For massive gains give it a go On nutrition Pro gainer.

This has become my go-to product at breakfast and after workout. Love the taste and consistency. Bomb!
† This price is the retail price for this product found at one or more retail websites in the last 30 days. The price may not include shipping cost, tax, sale or promotional prices, or discounts such as member pricing. Prices may change. Bodybuilding.com verifies this price every 30 days.
2.3 Kilograms
14 Servings | CA$3.95 Per Serving
4.1 Kilograms
25 Servings | CA$3.53 Per Serving
4.6 Kilograms
28 Servings | CA$3.31 Per Serving
What's in Optimum Nutrition Pro Gainer
5.08 Lbs.

Banana Cream Pie

Serving Size 1 Scoop (165 g)

Servings Per Container

14

Amount Per Serving

Calories

650

Calories From Fat

70

% Daily Value *

Total Fat

8 g

12%

Saturated Fat

3.5 g

18%

Trans Fat

0 g

Cholesterol

60 mg

20%

Sodium

360 mg

15%

Total Carbohydrate

85 g

28%

Dietary Fiber

4 g

16%

Sugars

5 g

Protein

60 g

120%

Vitamin A

20%

Vitamin C

35%

Calcium

50%

Iron

25%

Vitamin E

35%

Thiamin

15%

Riboflavin

35%

Niacin

20%

Vitamin B6

20%

Folic Acid

20%

Vitamin B12

20%

Biotin

20%

Pantothenic Acid

20%

Phosphorus

35%

Iodine

45%

Magnesium

30%

Zinc

20%

Selenium

10%

Copper

20%

Manganese

35%

Chromium

30%

Molybdenum

25%

Chloride

4%

* Percent Daily Values are based on a 2,000 calorie diet. Your daily values may be higher or lower depending on your calorie needs:

Ingredients:

Maltodextrin

, Protein Blend (Whey Protein Isolate

, Whey Protein Concentrate

, Calcium Caseinate

, Egg Albumin

, Hydrolyzed Whey Peptides

, Glutamine Peptides)

, Lipid Blend (Medium Chain Triglycerides

, High Oleic-Sunflower Oil)

, Partially Hydrogenated Guar Gum

, Natural And Artificial Flavors

, Lecithin

, Vitamin/Mineral Blend (Dimagnesium Phosphate

, Calcium Carbonate

, Tri-Calcium Phosphate, Maltodextrin

, Ascorbic Acid

, Ferric Orthophosphate

, Molybdenum AA Chelate

, D-Alpha Tocopherol Acetate

, Boron AA Chelate

, Niacinamide

, Zinc Oxide

, Manganese Sulfate

, D-Calcium Pantothenate

, Selenomethionine

Pyridoxine Hydrochloride

, Vitamin A Palmitate

, Cupric Oxide

, Chromium Polynicotinate

, Thiamin Hydrochloride

, Riboflavin

, Beta Carotene

, Folic Acid

, Biotin

, Potassium Iodide

, Cyanocobalamin)

, Salt

, Carbogen®

, Aminogen®

, Sucralose

, Acesulfame Potassium

, Lactase.

Allergen Information: Contains Milk, Egg, Soy (Lecithin), And Wheat (Glutamine Peptides) Ingredients.
Directions For Pro Gainer:
SHAKER CUP: Add 1 heaping scoop of PRO Gainer™ to 16 oz of cold water and shake until thoroughly dissolved. TIP: Using milk will add additional calories, carbs and proteins to the nutrient profile of your gainer shake. You can also stack your shake with creatine and other size-supporting supplements.
ELECTRIC BLENDER: : By using an electric blender, you can turn your gainer shake into a nutrient-dense mini-meal. Add in fresh or frozen fruit, peanut butter, nuts, seeds and size-supporting supplements. TIP: Adding a couple of ice cubes can improve the consistency of your shake.
* These statements have not been evaluated by the Food and Drug Administration. This product is not intended to diagnose, treat, cure, or prevent any disease.
---