NutraBio
NutraBio Plant Protein
20g of Vegan Plant-Based Protein
Blend of Yellow Peas and Whole Brown Rice to Support Muscle Growth and Recovery*
Product Overview
Plant Protein contains a precise trademarked blend of yellow peas and whole brown rice to help support gains in lean mass, recovery, and meeting the daily protein requirements for those who follow a plant-based nutrition plan*. With all of the essential amino acids present and BCAAs in the scientifically studied 2:1:1 ratio, NutraBio Plant Protein sets a new standard for plant-based nutrition. The profile provides enhanced digestibility with mouth-watering flavors.
Product Benefits
100% plant-based protein
Promotes muscle growth and recovery*
Complete amino acid profile
Helps you feel full and satiated
Naturally sweetened
Hypoallergenic, gluten-free, and non-GMO formula
Key Ingredients
NutraBio Plant is not just a functional protein blend with an excellent nutritional profile. Plant also contains patented Frutalose® chicory root extract (inulin) and natural sweeteners from monk fruit extract and Stevia leaf extract to provide you with a delicious formula you can feel good about consuming. Plant is a revolutionary whey protein alternative that provides a maximum anabolic response while also containing more arginine than whey*. This highly digestible protein source helps maximize muscle growth and recovery*.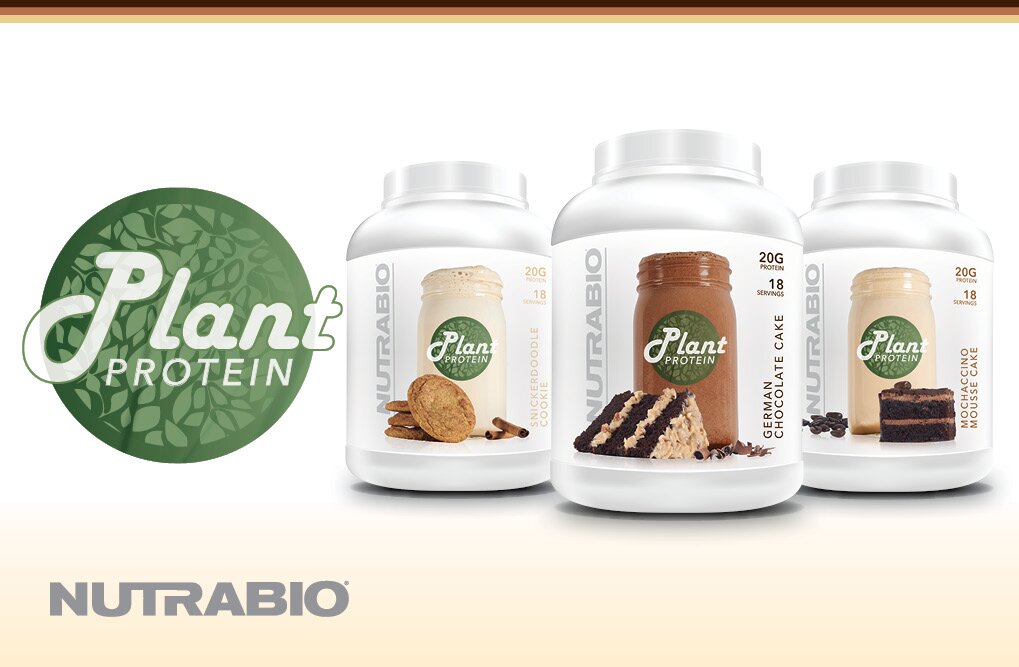 Supports Your Goals
Your search for a great-tasting plant-based protein has finally come to an end. NutraBio Plant Protein exceeds all expectations by providing you with a profile that checks all the boxes for your nutritional need. Whether you're looking to build muscle or simply maintain your lean mass when dieting, Plant Protein supports your health and physique goals*.
Good to know
Unlike other plant-based protein supplements, the specific protein source found in NutraBio Plant Protein provides you with 3x the arginine compared to standard whey protein. This is incredibly important as it helps increase blood flow, which can aid in transporting key nutrients to the muscles to help enhance growth and recovery*. In addition, Plant is a slow-digesting plant-based protein that prolongs the release of amino acids into the bloodstream to help prevent catabolism*.
About the Brand
NutraBio Labs has a "No Compromise" commitment to producing the purest, cleanest, and most effective supplements on the market. Our products include fully transparent labels featuring clinical doses of the highest quality ingredients available.

Ratings & Reviews
What's in NutraBio Plant Protein
Supplement Facts

Serving Size: 1 scoop (32.19 g)

Servings Per Container

18

Amount Per Serving

%Daily Value

Calories

120

Total Fat

3 g

3%*

Saturated Fat

1 g

6%*

Total Carbohydrate

5 g

2%*

Dietary Fiber

4 g

13%*

Protein

20 g

40%*

Calcium

66 mg

6%

Iron

6 mg

30%

Sodium

250 mg

10%

Potassium

150 mg

4%

Vegan Plant Protein

25.6 g

†

Typical protein ratio: Whole yellow pea protein 17.95 g (yielding 14 g complete protein). Whole brown rice protein: 7.69 g (yielding 6 g complete protein).

Frutalose® (chicory root extract) (inulin)

1.8 g

†

* Percent Daily Values are based on a 2,000 calorie diet.

† Daily Value not established.

Ingredients:

alkalized cocoa powder 2.2 g

, unsweetened toasted coconut 1 g

, Natural flavor 752 mg

, salt 300 mg

, xanthan gum 220 mg

, monk fruit extract 160 mg

, stevia leaf extract 120 mg.

Contains: Tree Nuts (Coconut)

No Excipients, No Fillers, Allergen Free, No Artificial Color, Flavor or Sweetener, No Preservatives, No Soy, No Wheat, No Yeast, No Fish, No Milk.
Directions For Plant Protein: Add one scoop to 8 ounces of cold water, almond milk, or your favorite beverage. Vary the amount of liquid to meet your desired taste and consistency.
* These statements have not been evaluated by the Food and Drug Administration. This product is not intended to diagnose, treat, cure, or prevent any disease.
---