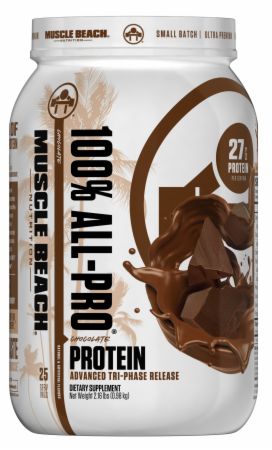 Muscle Beach Nutrition
100% All Pro Protein Powder
Tri-Blend Muscle Building Protein
Tri-Phase Release Protein Consisting of Whey Isolate, Whey Concentrate & Micellar Casein
Product Overview
100% All-Pro is a precision blend of fast, medium and slow acting proteins that provides a tri-phase release profile to continuiously feed your muscles throughout the day.
Each delicious scoop contains 3 types of high-quality protein. Consisting of Whey Protein Isolate, When Protein Concentrate and Micellar Casein, plus an exclusive digestive enzyme matrix to support optimal protein digestion and uptake.
Product Benefits
Promotes Muscle Growth*
Enhances Recovery*
Builds Lean Muscle*
Digestive Enzymes
Key Ingredients
While some whey blends contain fillers and low-quality proteins, 100% All-Pro Protein powder blends whey isolate, whey concentrate and micellar casein for the ultimate protein blend for muscle growth and recovery. With its low calorie, low carb and only 1g of sugar profile, you can feel confident you are fueling your body with only the best.
Supports Your Goals
100% All-Pro can be used directly after your workout to rebuild muscles, between meals to curb cravings or used first thing in the morning to kick start your metabolism. Combine with 6-12 oz. of cold water or any beverage of your choice. Drink, enjoy and repeat as desired.
About The Brand
Muscle Beach Nutrition is dedicated to provide and deliver the most cutting-edge, innovative and highest quality products IN THE WORLD. Whether you are an athlete, a trainer or a fitness enthusiast that is looking to take your training to the next level, there is only one brand that stands above the rest. MUSCLE BEACH NUTRITION.
Ratings & Reviews
What's in Muscle Beach Nutrition 100% All Pro Protein Powder
2 Lbs.

Chocolate

Serving Size: 1 Scoop (36 g)

Servings Per Container: About 26

Amount Per Serving

% Daily Value *

Calories

160

Calories From Fat

10

Total Fat

3 g

4%*

Saturated Fat

1 g

5%*

Cholesterol

30 mg

10%

Total Carbohydrate

6 g

2%*

Dietary Fiber

1 g

4%*

Sugars

2 g

**

Protein

27 g

Calcium

330 mg

25%

Sodium

150 mg

7%

Potassium

299 mg

6%

Digestive Enzyme Matrix

108

mg

**

Amylase, Protease, Lipase, Cellulase, Lactase

* Percent Daily Values are based on a 2,000 calorie diet.

** Daily Value not established

Other Ingredients:

Protein Blend [Whey Protein Isolate, Micellar Casein, Instant Whey Protein Concentrate (Whey Protein Concentrate, Soy Lecithin)

, Instant Whey Protein Concentrate (Whey Protein Concentrate, Sunflower Lecithin)]

, Cocoa Powder

, Sunflower Oil Creamer (Sunflower Oil, Maltodextrin, Calcium Caseinate, Sodium Caseinate, Dipotassium Phosphate, Guar Gum, Mono & Diglycerides, Potassium Citrate, Silicon Dioxide)

, Natural & Artificial Flavors

, Cellulose Gum

, Salt(Sodium Chloride)

, Digestive Complex (Protease, Amylase, Cellulase, Lactase and Lipase)

, Sucralose

, Xanthan Gum

, Acesulfame Potassium

, Papain

, Bromelain

Contains: Milk, Peanut, Soy.
Directions For 100% All Pro Protein Powder: Add one level scoop to 6-12 oz of cold water or any beverage of your choice. Mix or shake until powder is completely dissolved. Drink, Enjoy. Repeat as desired.
Warnings: This product is for use by healthy adults only and not for use by anyone under age 18. DO NOT USE if you are pregnant or nursing. Consult a physician before using this or any dietary supplement or before starting any diet or exercise program. CONSULT A PHYSICIAN BEFORE USE if you have any medical condition or if you are taking any medication. DO NOT USE if you are allergic to milk or soy. IMMEDIATELY DISCONTINUE USE and call a physician if you experience any adverse reaction to this product. KEEP OUT OF REACH OF CHILDREN. Store in a cool, dry place away from sunlight, moisture, and heat. Always keep tightly sealed. Do not use if safety seal is broken, missing, or has been tampered with.
* These statements have not been evaluated by the Food and Drug Administration. This product is not intended to diagnose, treat, cure, or prevent any disease.
---