Currently Unavailable
Alpha Lion
Alpha Dreams Recovery Sleep Aid
, 30 Servings Tropical Terminator
A muscle building, fat burning, sleep aid that contains every amino acid, electrolyte, and mineral your body needs before bed.
Alpha Dreams primes your body for a great night's sleep with its tranquility, ZMA, and inner zen matrix to help lower anxiety and tension while the amino acids help accelerate recovery and muscle growth*. Wake up more clear-headed and ready for the day.*
Product Overview
Proudly supports first responders & nurses with Bodybuilding.com and ID.me. Verify Here
Aggressive Nighttime
Aesthetics Builder
Recover while you sleep like a baby*
24/7 muscle recovery*
Replenish vital electrolytes*
Maximize quality sleep*
6 matrix nighttime recovery system*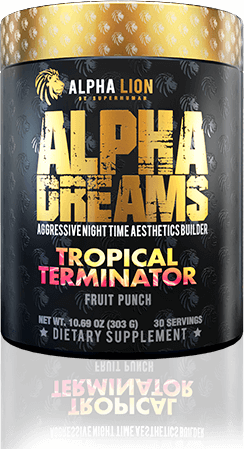 The
easiest

Way to
burn fat and build muscle*
What if we told you that you could burn fat and build muscle without lifting a finger? You'd think it was a scam, right? Wrong!
Alpha Dreams accomplishes just that with a cutting-edge premium nighttime recovery formula that allows you to replenish your gains overnight while giving you the best sleep of your life.*

With quality sleep and recovery coming from Alpha Dreams, you are putting your body in the perfect position to burn fat and build muscle.*
So your dream physique can finally start becoming your physique.
6-matrix
recovery formula
To make sure you know exactly what each ingredient in Alpha Dreams is accomplishing for your recovery process, we've broken down the formula into a laser-focused 6-Matrix Recovery Formula.
So every night when you enjoy your Alpha Dreams before bed, you are priming your body to get a terrific night's sleep, which can help accelerate recovery while you dream of empty squat racks.*

Amino Growth Matrix - a two-headed beast consisting of 4000 mg of Glycine and L-Tryptophan to help you wake up feeling more clear-headed and energized as well as accelerating onset sleep.*

ZMA Recovery Matrix - Research shows that the synergistic effects between Zinc, Magnesium, and Vitamin B6 assist with enhanced relaxation.*
HGH Matrix - HGH, GABA, and Mucuna Pruriens work together to maximize the quality of your sleep, which can mean more muscle growth, strength, and athletic performance.*

Tranquility Matrix - a powerful combination of Melatonin and Chamomile Flower to promote inner peace and encourage quality sleep after you crush every workout.*

Inner Zen Matrix - KSM-66® and L-Theanine team up to help you sleep with ease and lead a more carefree life, giving you more time to focus on accelerating your physique goals.*
Absorption Matrix - what's the point in having all these incredible ingredients if your body can't absorb them?! Our three-pronged Absorption Matrix maximizes the bioavailability of vital ingredients, so your body is absorbing more of what actually matters.*
Feel the max-dosed
Difference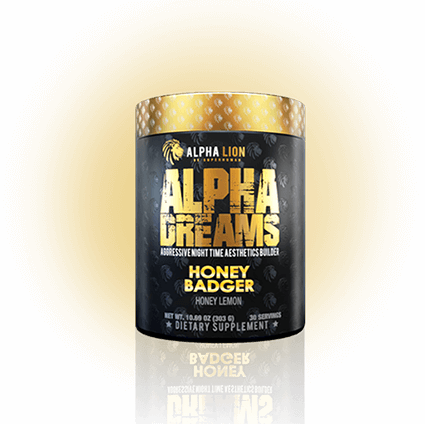 Ratings & Reviews
What's in Alpha Lion Alpha Dreams Recovery Sleep Aid
Serving Size 1 Scoop (10.1G)

Servings Per Container

30

Amount Per Serving

% Daily Value

Sodium (as Sodium Chloride)

80 mg

3%*

Potassium (as Potassium Citrate)

15 mg

<1%*

Magnesium Bisglycinate Chelate (TRAACS®)

40 mg

10%*

Zinc (as Zinc Methionine)

27 mg

245%*

Vitamin B6 (as Pyridoxine)

12 mg

708%*

Amino Growth Matrix

L-Glycine

3,000 mg

**

L-Tryptophan

1,000 mg

**

ZMA Recovery Matrix

Zinc (As Zinc Methionine)

150 mg

**

Magnesium Bisglycinate Chelate(TRAAC®)

400 mg

**

Vitamin B6 (As Pyridoxine HCl)

14.5 mg

**

HGH Matrix

GABA

350 mg

**

L-Glutamine

2,000 mg

**

Mucuna

175 mg

**

Tranquility Matrix

Melatonin

2 mg

**

Chamomile Flower

75 mg

**

Anti-Stress Matrix

KSM-66® Ashwagandha (root extract) (withania somnifera)(standardized to 5% withanolides)

200 mg

**

L-Theanine

200 mg

Absorption Matrix

AstraGin® (Astragalus Membranceus (root), Panax notoginseng (root)))

50 mg

**

Sodium (as Sodium Chloride)

200 mg

**

Potassium (as Potassium Citrate)

40 mg

**

* Percent Daily values are based on a 2,000 calorie diet

** Daily percent value not established

Other Ingredients:

Malic Acid

, Natural And Artificial Flavors

, Silicon Dioxide

, Sucralose

, Acesulfame Potassium

, FD&C Yellow #5.
Directions For Alpha Dreams Recovery Sleep Aid: Mix 1 scoop with 8-10 ounces of water shortly before bedtime.
Warnings: Not for use by individuals under the age of 18 years. Do not use if you are pregnant or nursing. Do not exceed recommended serving. Exceeding recommended serving may cause serious adverse health effects. Discontinue use or call a physician or licensed qualified health care professional immediately if you experience any adverse symptoms. Keep out of reach of children.
* These statements have not been evaluated by the Food and Drug Administration. This product is not intended to diagnose, treat, cure, or prevent any disease.
---