Allmax Nutrition
CytoGreens
Greens superfood powder for energy, endurance & recovery*
Infused with spirulina, spinach & barley, 21x the green nutrients of dark leafy greens *
Product Overview
PREMIUM GREEN SUPERFOOD

FOR ATHLETES
Infused with Spirulina, Spinach & Barley Grass
21x the Green Nutrients of Dark Leafy Greens‡
Improves Energy Levels*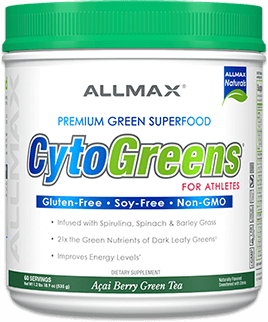 PREMIUM GREEN SUPERFOOD
CYTOGREENS is an Ultra-Concentrated Premium Green Superfood powder with double the amount of green ingredients as leading "greens" supplements. Loaded with Chlorophyll-Rich Green Superfoods like Spirulina, Cracked-Cell Chlorella and Ultra-Fine Premium Japanese Matcha Green Tea.
CYTOGREENS contains our exclusive nutrient-rich, Green Performance Matrix to enhance performance, recovery and help the body recycle energy more efficiently while exercising.* Better still, you get the dark greens and color-rich, anti-oxidant berry nutrients your body needs!
Infused with Spirulina, Spinach & Barley Grass
21x the Green Nutrients of Dark Leafy Greens‡
Improves Energy Levels*
CYTOGREENS has over 1.2 g of standardized HIGH-ORAC Antioxidants. It also contains Cytozymes, a custom 8 enzyme high-potency blend that has as much as 20x the enzyme activity of leading "greens" supplements. Cytozymes helps break down the raw, whole-food ingredients to help release nutrients for optimal digestion and bioavailability.
CYTOGREENS is filler-free, lecithin-free, gluten free and non-gmo, with no artificial colors or dyes, and contains only natural flavors and natural sweetener.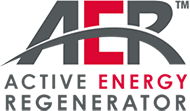 INCREASED ENERGY, GREATER ENDURANCE & IMPROVED RECOVERY*
AER is a Natural Blend of 4 Key Botanical Extracts that may help reduce oxidative damage resulting in improved recovery.* In creating CYTOGREENS, we focused on highly concentrated, truly green, nutrient-rich raw-sourced foods in amounts suitable for athletes who demand more from their bodies.
Packed with High-ORAC Antioxidants; Fiber-Rich Omega 3 EFAs; 8-Enzyme Cytozymes to maximize absorption; and a Best-of-Breed, Endurance and Stamina blend, with Cordyceps, Panax Ginseng, Reishi Mushroom and Astragalus.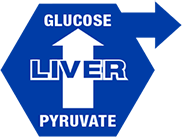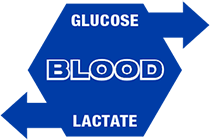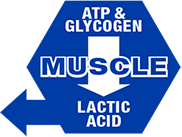 INCREASES MUSCLE PERFORMANCE, CARDIO ENDURANCE & REDUCES FATIGUE*
CYTOGREENS increases the ability for the body to move lactic acid out of the muscle where it is recycled by the liver as more fuel in the form of glucose. This reduces soreness, increases muscle performance and maximizes endurance.*
‡CytoGreens has 21 times the dark green pigment chlorophyll as a serving of dark leafy greens.(Source: USDA Food Database)
Ratings & Reviews
What's in Allmax Nutrition CytoGreens
14 Servings

Acai Berry Green Tea

Serving Size 8.9 g

Servings Per Container

14

Amount Per Serving

% Daily Value

Calories

25

Total Fat

0 g

0%**

Saturated Fat

0 g

0%**

Trans Fat

0 g

0%

Total Carbohydrate

3 g

1%**

Dietary Fiber

2 g

7%

Total Sugars

0 g

Includes 0g Added Sugar

0%**

Protein

3 g

GREEN PERFORMANCE MATRIX* Detox and pH Balance*

5694 mg

High-GLA Spirulina (Spirulina platensis) powder (60% Protein)

1,665 mg

†

Organic Matcha Green Tea (Camellia sinensis, leaf) powder

900 mg

†

Organic Alfalfa (Medicago sativa, aerial) powder

820 mg

†

Organic Barley Grass (Hordeum vulgare, leaf) powder

650 mg

†

Pea Protein (Non-GMO) (Pisum sativum, seed) powder

600 mg

†

Organic Spinach (Spinacia oleracea, leaf) powder

600 mg

†

High-CGF Chlorella (Chlorella vulgaris) powder (Cracked-Cell Wall)

459 mg

†

CYTOZYMES™ Digestive Enzyme Assimilation*

908 mg

Inulin Prebiotic from Chicory, root (FOS: Fructo-Oligosaccharide)

750 mg

†

Protein Digestive Enzymes

Protease 4.5 (6400 HUT)

16 mg

†

Protease 6.0 (1800 HUT)

4 mg

†

Plant Digestive Enzymes

Cellulase (2545 CU)

64 mg

†

Hemicellulase (7000 HCU)

14 mg

†

Carbohydrate Digestive Enzymes

Alpha-Amylase (4000 DU)

25 mg

†

Pectinase (25 endo-PGU)

17 mg

†

Glucoamylase (3 AGU)

3 mg

†

Lipid Digestive Enzymes

Lipase (60 FCCLU)

15 mg

†

ACTIVE ENERGY REGENERATOR* Clinically Researched Proprietary Blend

485 mg

Cordyceps (Ophiocordyceps sinensis, hyphae) powder (7% Cordyceptic acid)

280 mg

†

Astragalus (Astragalus membranaceus, root) extract (5:1 extract ratio)

85 mg

†

Reishi (Ganoderma lucidum, hyphae) extract (5:1 extract ratio)

75 mg

†

Asian Ginseng (Panax ginseng, root) extract (5:1 extract ratio)

45 mg

†

FREE-RADICAL DEFENSE BLEND* High-ORAC Antioxidant

305 mg

Organic Brazilian Acai Berry (Euterpe oleracea, fruit) powder

119 mg

†

Organic Amla Berry (Phyllanthus emblica, fruit) powder

104 mg

†

Citrus Bioflavonoid Complex

42 mg

†

Acerola Cherry (Malphigia glabra, fruit) powder (17% Natural Vitamin C)

40 mg

†

FIBER-RICH GOLDEN FLAX Omega3-Rich Seed Powder

225 mg

Organic Golden Flaxseed (Linum usitatissimum, seed) powder

225 mg

†

LIVER DEFENSE* Systemic Organ Detox*

150 mg

Organic Milk Thistle (Silybum marianum, seed) powder (80% Silymarin)

150 mg

†

IMMUNE DEFENSE* Immune Activation Support*

195 mg

American Ginseng (Panax quinquefolius, root) extract (4:1 extract ratio)

150 mg

†

Organic Aloe Vera (Aloe barbadensis miller, leaf) powder (200x concentration, Aloin-Free)

45 mg

†

** Percent Daily Values are based on a 2,000 calorie diet.

† Daily Value not established.

Other Ingredients:

Natural flavors

, organic guar gum

, xanthan gum

, organic stevia (leaf extract).

ALLERGEN WARNING: Produced in a facility that handles Milk, Egg, Soy, Peanut, Tree Nuts, Fish Oil and Shellfish products.
Directions For CytoGreens: Mix 1 scoop of CytoGreens® with 1 cup (8 oz, 240 ml) of cold water. Take 1 to 2 servings daily.
Warnings: This product has a tamper evident neckband for your protection. Do not use if neckband is missing or broken. Not recommended for children, pregnant or lactating women. If you are taking prescription medication or have a pre-existing medical condition, consult your health care practitioner before taking this product. Store in a cool, dry place. Product sold by weight, not volume.
* These statements have not been evaluated by the Food and Drug Administration. This product is not intended to diagnose, treat, cure, or prevent any disease.
---